TRAVELLERS ! FOR YOUR SAFETY, BE CAREFUL ! IN PARIS,DON'T ACCEPT GOING WITH A DRIVER OR A MOTORBIKE WHO ASK YOU IF YOU NEED A TAXI AT THE AIRPORT,A TRAIN STATION OR IN A TOURIST AREA.
Taxis in Paris aren't uniformly one color.Be careful, there are rogue taxi drivers, especially at the airport. If someone comes up to you in the airport and tells you they'll save you money on your trip in to the city, politely decline.


It's easy to spot the genuine thing. The rooftop sign will say Taxi Parisien. There is a line of them outside the baggage claim area of CDG. The queue goes quickly, as there is usually someone there who directs people to the taxis.

There are taxi ranks all over the city. They are usually marked on tourist maps with a T. One generally doesn't hail a cab as they do in the US, for example. One either goes to a taxi rank, or calls the company to arrange pickup. Here is the telephone number for the companie G.7 Taxi in English:+33 (0)1 41 27 66 99
A REAL LICENSED TAXI IN PARIS NEVER ASK YOU IF YOU NEED A CAB,IT IS FORBIDDEN BY THE LAW AND THE TAXI'S RULES.
IN PARIS,AT THE AIRPORT,IN A TRAIN STATION,YOU CAN CATCH A CAB IN A TAXI RANK,IN THE STREET OR CALLING THE BIGGEST COMPANIES OF TAXIS LIKE "taxis G4+3 ","LES TAXIS BLEUS ","ALPHA TAXIS" OR "TAXIS 7000 " YOU'LL FIND THE PHONE NUMBERS OF THOSE COMPANIES IN INTERNET AND ALL MOST OF THEM SPOKE ENGLISH .
The biggest radio- taxi companies in Paris :

-TAXIS G.7 tel : 3607 or +33 (0)1 47 39 47 39 . internet : http://www.taxis G4+3.fr
-TAXIS BLEUS tel : 3609 or +33 (0) 891 70 10 10 . internet : http://www.taxis-bleus.com
-ALPHA TAXIS tel : +33 (0)1 45 85 85 85 . internet : http://www.alphataxis.fr
Or here are the numbers and adress of Taxi ranks in Paris and Parisian suburbs
viewtopic.php?f=32&t=126
HOW TO RECOGNIZE A LICENSED TAXI IN PARIS ?
A light globes with three repeaters (small bulbs) setting forth the rates A, B and C.
GREEN : THE TAXI IS AVAILABLE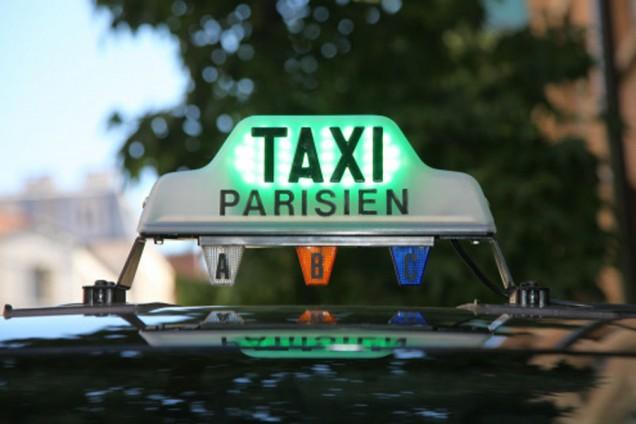 RED : THE TAXI IS BUSY
A licensed taxi in Paris as a plate like this on the right wing of the car witch is the official registration plate with Taxi's licence number:
A licensed taxi in Paris has his professional card on the windscreen,you can saw it when you're outside on the side of the driver.
There is this model of professional card
Or this new model of professional card where you can see the photo of the taxi driver from the outside :
A licensed taxi in Paris has a taximeter .
There are different models of Taximeter :

When you saw this opaque sheath covering the light ,the Taxi driver has finish his service :

MORE INFORMATIONS:

-A taxi is free when the light "taxi" is on (or more recently when the light is green). When off, only the light color indicating the rate in effect will remain lit - this therefore means the taxi is reserved or occupied. When the taxi is no longer in use, its light is covered with an opaque sheath.

-There are three prices A, B, C depending on the location & the date and time of the course.

-If you have a preferred route let the driver know,but most of the drivers will use a route they know or that they think is faster.

-However do not be surprised if you are refused if you are less than 50 meters from a taxi stand. They can refuse you if you are drunk or if you are with a dog that risks dirtying their car (except guide dogs).

-They are also not obligated to take you if they are at the end of their service (time on the back), and your route will take them far from their final destination.

-If their registration allows them to take more than 3 people in their car, they are not allowed to refuse you there either. Note that there is a surcharge for the number of passengers over 3. 2 children count as one adult (under 10 years 's old)

-Taxi drivers are under the obligation to provide a receipt for any course that is over 25 euros with the date, the time of day the license plate number etc

-Reserving a taxi ahead of time will cost more money because the meter will be running from the time that the taxi is on its way to you. That said, during rush hour, it can put your mind at ease to know that you will have a taxi for you and not have to find the nearest stand or call and discover there are no available taxis in your area.

-How to Pay for a Taxi in Paris ;

The vast majority of the time, you'll pay for your taxi ride in Paris with cash. If you know in advance that you'll need to use a credit card to pay for your taxi, you need to make sure before you get in the cab that it's equipped to accept credit cards. Additionally, the total amount of the fare has to be €15 or more. So for a short trip in the city, make sure you have enough cash on you.

-To file a complaint against a Parisian taxi contact the Préfecture de police 36 rue des Morillons, 75732 Paris Cedex 15.
HAVE A NICE STAY IN PARIS !